Things To Do in Lanseria

Lanseria Lion Park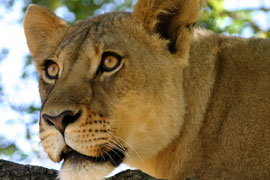 Lanseria Lion Park is South Africa's premier lion park, home to four prides of lions, including rare white lions, boasting even more predators such as wild dogs, cheetahs and hyenas. Located close to Johannesburg, the park has become a destination visit for tourists, celebrities and locals.
One can experience the unforgettable opportunity to play with lion cubs, a real drawcard for people the world over. Visitors are also invited to feed giraffes and take part in a 'Cheetah Walk', self-game drives, night drives and guided safaris with a trained ranger. Night drives offer the chance to see the lions being fed.
The park is divided into different camps, one of which is a grazing area where one can view zebra, springbuck, giraffe, gemsbok and blesbok roaming the area. Lions are kept in separate enclosures and are brought in from all over Africa - Mozambique, Botswana, Northern Gauteng and Zimbabwe. Incredibly, there are currently more than 80 lions living at the park. A specialist breeding program ensures the continuation of the White Lion species, one which is rare, although not currently endangered.
For precious keepsakes and a reminder of life-changing experiences with lions, there is a curio shop at the lion park. Bring the whole family and enjoy a full day's experience, including a delicious meal at their restaurant.