Gauteng Things To Do
Shop at the Farmers' Market @ Bamboo (Melville)
Categories: Farm Stalls & Markets / Malls & Shopping / Miscellaneous
Price group: Free to Browse (see other things to do in this price group)
Available in the following region(s): Johannesburg
Stay Overnight: See accommodation in Melville, in Gauteng
Address: On the roof Upstairs at Bamboo Lifestyle Centre, 53 Rustenburg Rd, Melville.
Telephone: +27 (0)11 726-1701
Opening hours: Every Saturday from 08h00 until 13h00.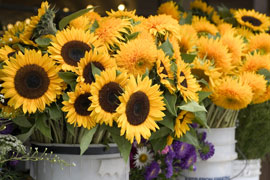 Locally grown and very fresh, the Farmers Market at Bamboo in Melville is held every Saturday morning.

All produce is grown naturally or organically, meats are raised humanely on pasture, farmstead cheeses are handmade, eggs and poultry are from free-range fowl. There are fresh flowers, baked goods straight from heaven, great wine and fabulous olive products.

Get there early - Open from 08h00 every Saturday.

• A choice of different cuisine (sit down or take home), Persian, Thai, Gourmet Boere, German.
• Live performances
• Once a month Celebrity chef.
• 20 New Traders
Why Not Overnight?
Find Accommodation in Melville
The 12 Stars Luxury Apartments, situated in the vibrant and central Johannesburg suburb Melville, are ideal for the business travellers or those who ...
The Melville Turret Guest House offers guests a choice of six en-suite rooms and two self-catering suites. Our 6 en-suite rooms are spacious and ...
Related Pages
Travelling to Melville
• Things to Do in Melville
• Melville Guest Houses
• Gauteng Accommodation
• Gauteng Guest Houses
• South Africa Accommodation