Gauteng Things To Do
Cruise the Vaal on the Liquid Lounge (Vanderbijlpark)
Categories: Cruises
Price group: R1 to R100 per person (see other things to do in this price group)
Available in the following region(s): Southern Gauteng
Stay Overnight: See accommodation in Vanderbijlpark, in Gauteng
Address: Departing from Emerald Casino Resort, Vanderbijlpark, Gauteng.
Telephone: +27 (0)16 982-3411
Opening hours: By arrangement.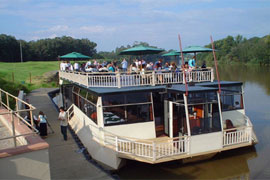 Enjoy a one hour sundowner cruise and experience the sun set magnificently over the Vaal River. Nestled deep in the Southern part of Gauteng, less than one hour's drive from Johannesburg central, is one of the finest inland cruisers in South Africa.

The Liquid Lounge makes its presence known along the lush shores of the Vaal River. This 56km section of navigable water, boasts a contrast of serene nature and some of the finest real estate in country, aptly named Millionaires Bend.
Why Not Overnight?
Find Accommodation in Vanderbijlpark
The hidden treasure of the Emerald Casino Resort makes its presence known basking in the sun of the lush banks of the Vaal River, only an hour's ...
This unique hotel and conference centre is situated on the Vaal river. Located a few kilometres away from Vanderbijlpark, the resort is only 40 ...
Related Pages
Travelling to Vanderbijlpark