Things To Do in Parktown

Brenthurst Gardens Tour

Where? 1 Federation Road, Parktown, Johannesburg.

When? Tours are offered on Tuesdays and Thursdays for groups from 10-30 people, strictly by appointment only.

How? Call +27 (0)11 646-4122

How much? Falls into price group R1 to R100 per person. Confirm with the provider.

Overnight? Stay at accommodation in Parktown, in Gauteng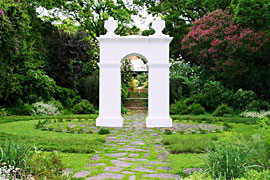 The garden at Brenthurst Estate is rated as one of the finest in South Africa and can certainly be placed among the great gardens of the world. The gardens range from gracious avenues of planes and oaks, to indigenous grass enclaves, beautifully manicured circular lawns, and several miniature forests.
All this is interspersed with tumbling fountains and sculptures, and several kilometres of stone pathways. The garden is 70 percent indigenous, with trees and plants from Australia, South America, New Zealand and Japan enhancing the splendour. Walking tours are offered in the gardens and led by head gardener and horticulturist Dawid Klopper. You will be able to visit the Rose Garden, Children's garden, Indigenous Grass Garden, Venus Sculpture, Japanese Garden and the Man and Woman Sculpture.