Eating Out in Knysna

Firefly Eating House

Where? 152a Old Cape Road, Knysna, Garden Route, Western Cape

When? Tuesday to Sunday from 18h30 to 22h00.

How? Call +27 (0)44 382-1490

Overnight? Stay at accommodation in Knysna, in Garden Route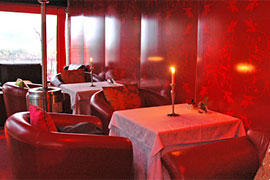 The contemporary Firefly Eating House is a trendy 'place to be' in the popular holiday town of Knysna along the Garden Route. It is located within a refurbished old home, which is funky and eclectic in its décor and ambience. Bright red walls are the ideal accents to silver candelabras and colourful artwork.
The food on offer is just as trendy and progressive as the Firefly restaurant's décor. The menu includes items like hot prawn curry, creamy fish curry and a range of hand-ground spices that infuse every dish to create magnificent combinations. The wine list is extensive and includes loads of variety. There is a cocktail menu that includes alcohol-free options, so that everyone can enjoy the comfort of pre-dinner cocktails before indulging in spicy, flavoursome delights.