Eastern Cape Things To Do
South End Museum (Humewood)
Categories: Museums
Price group: R1 to R100 per person (see other things to do in this price group)
Available in the following region(s): Port Elizabeth
Stay Overnight: See Humewood accommodation, in Eastern Cape
Address: Corner of Humewood Road & Walmer Boulevard, South End, Port Elizabeth
Telephone: +27 (0)41 582-3325
Opening hours: Monday to Friday from 09h00 to 16h00.
Weekends from 10h00 to 15h00.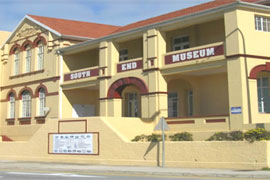 South End is a suburb in Port Elizabeth which was once a cosmopolitan community. People from all walks of life lived harmoniously in the epicentre of cultural diversity. Blacks, whites, coloureds, Indians, Chinese, Jews, Greeks and many more were united in their attitude towards family values, faith and morals, despite the diversity of religion, language and race.

However, this vibrant community changed completely with the re-location of all non-whites when, in 1948, the National Party was elected to power and the Apartheid ideals were implemented. The South End Museum was established in recognition of this once diverse and bustling neighbourhood and exposes some of the injustices experienced by non-whites to provide an accurate picture of life in this once thriving community.

Why Not Overnight?
Find Accommodation in Humewood
African Sands Bed and Breakfast offers upmarket B&B accommodation in Humewood, Port Elizabeth, and the option of self catering. Situated just 800mt from Port Elizabeth's famous Kings Beach which is a safe swimming beach on a beautiful sandy coastline. Kings Beach is ...
The Kelway Hotel is perfectly positioned for business and leisure travelers. Situated just a few minutes from Port Elizabeth Airport, Nelson Mandela Bay Soccer stadium as well as within walking distance to popular tourist attractions and beaches, The Kelway Hotel will create a memorable ...
Related Pages
Travelling to Humewood
• South End Accommodation
• South End Guest Houses
• South End Bed & Breakfast
• Eastern Cape Hotels
• Eastern Cape Accommodation
• South Africa Accommodation
• Things to Do in South End