WINDHOEK ATTRACTIONS
| | |
| --- | --- |
| You are here: | Namibia » Attractions and Destinations » Windhoek |
Windhoek is a bustling, cosmopolitan city with good hotels, sophisticated shops and convivial bistros. Stately buildings range from the home of Namibia's parliament, to the newly founded Hero's Acre. Day tours can be undertaken into Katutura, several museums in Windhoek, the National Library, National Archives, National Art Gallery and the National Botanical Gardens.
WINDHOEK ATTRACTIONS
• Christuskirche
• College of Art
• Das Reiterdenkmal
• St Georges Cathedral
• Alte Feste
• Heroes Acre
• Kaiserliche Realschule
• Old Location
• Oude Voorpost
• State House
• The Old Brewery
• The Old Supreme Court
• The Station
• Tinten Palast
• Turnhalle
• Zoo Park

or view

»

ATTRACTIONS MAP (pop up)

Windhoek
The charm of the City of Windhoek lies in its harmonious blend of African and European cultures and the friendliness of its people. Since Independence came to the country on 21 March 1990, it has been characterised by a vitality born of a sense of freedom and pride in self. It's a peaceful and relaxed city in a country with a proud record of political stability, and is known as one of the cleanest and safest cities on the African continent.

Since the historic election in 1992 of Windhoek's first black Mayor, prominent business entrepreneur Matheus Shikongo who is currently serving in this capacity, Windhoek has increasingly become an African city. Backed by a City Council pledged to maintain and enhance the wellbeing and quality of life of all its citizens it became evident, in all spheres of Windhoek society, that a new generation was at the helm.

Click here to view a detailed map of Namibia's Capital City: Windhoek Map


Accommodation - Windhoek Accommodation

Christuskirche (1910)
Situated on the Corner of Fidel Castro Street and Robert Mugabe Avenue. Built by Tunschel and Wilke to accommodate the Lutheran congregation. Drecker laid the original sandstone in 1886. This striking landmark is now a historical monument.

College of Art (1898)
Situated in Fidel Castro Street, The College of Art was Originally used as a court and later converted to the State Conservatoire. The structure now houses the College of Arts.

The Old Supreme Court (1907)
Situated in Lüderitz Street, once the Supreme Court, this building now accommodates the Regional Court.

St Georges Cathedral (1924)
Situated on the corner of Love and Sinclair Streets, this is the smallest functional cathedral in Southern Africa. The bell in the tower was one of a set cast for St Mary's Church in Northwall, Canterbury. On the same grounds is St George's School with its unusual Mansard roof. The school is today used as a kindergarten.

Das Reiterdankmal (1911)
Situated in Robert Mugabe Avenue, this equestrian bronze statue commemorates the soldiers killed in colonial wars in the early part of the century.

Kaiserliche Realschule (1909)
Situated in Robert Mugabe Avenue. The first German high school in Windhoek, it served as an English-medium school after World War II and is today part of the offices of the Ministry of Education and Culture.

State House (1959)
Situated between Daniel Munamawa Street and Robert Mugabe Avenue, the residence of the former colonial governor and administrator general, the building is presently the residence of the President of the Republic of Namibia.

Oude Voorpost (1902)
Situated on the corner of John Meinert and Moltke Street. Built as a government survey office by the German government, it now accommodates the Ministry of Environment and Tourism.

Turnhalle (1909 - 1912)
Situated in John Meinert Street. Since 1913 the Turnhalle has played an important role in the history of Namibia. Converted into a political conference room in 1975, it is currently used as a conference centre.

Old Location (1959)
Once a township for blacks on the western edge of Windhoek it was demolished on 10 December 1959 as part off the Union National Party's enforced apartheid campaign of the 1950s. With the groups divided ethnically, the suburbs of Katutura and Khomasdal were formed.

Tintenpalast (1913)
Situated in Robert Mugabe Avenue, designed by G Redecker, built by Sander & Kock, the Government Building has housed a series of successive governments. Today, in the independent Namibia, it houses the National Assembly.

Alte Feste (1892)
In Robert Mugabe Avenue, this is one of the oldest buildings in Windhoek, with its cornerstone laid in 1890. It served as a military headquarters in 1915 and then as a hostel for the Windhoek High School in 1935. In 1957 it was declared a national monument. It now houses state museum, where the historic independence Collection, reflecting events leading up to the Independence of Namibia can be seen.

Zoo Park
Zoo Park is situated on the corner of Independence Avenue and Fidel Castro Street. This lush, green park comprises a landscaped garden with a pond, children's playground and open-air theatre. With the Chinese Pavilion that symbolizes the friendship between the people of Shanghai and the people of Windhoek.

The Station (1911)
In Bahnhof Street. The South African Railways, keeping strictly to the original style added an additional building in 1929.

The Old Brewery (1902)
On the corner of Sam Nujoma and Tal Street, This housed what was once the largest concern in Windhoek and, as business developed, a new brewery was built in the Northern Industrial area.

Heroes Acre
On the road to Rehoboth, The Heroes' Acre is a modern, state of the art national symbol that was inaugurated by His Excellency, Dr Sam Nujoma, President of the Republic of Namibia on 26 August 2002. Its construction was motivated by the need to foster the spirit of patriotism and nationalism and to pass on this legacy to the future generation of Namibia. The Heroes' Acre took 13 months to construct and it covers a total area of 732.9212 hectares. It houses 174 graves, is 286.70 meters long and has a width of 134.20 meters. It has a parking area of 9824.34 meters while a three kilometer palisade fence protects the monument.
« Namibia Game Reserves and Parks | South Africa Game Reserves »
Select Area » Central Region · Namib Region · Northern Region · Southern Region
Etosha Park · Fish River Canyon · Skeleton Coast · Windhoek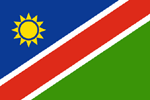 Country name: Republic of Namibia
Area: 825,418 km²
Population: 1.8 million
People: 86% African (50% Owambo, 9% Kavango, 7% Herero, 7% Damara, 5% Nama, 4% Caprivian, 3% San, 2% Baster, 0.5% Tswana), 7.4% mixed, 6.6% white
Language: English, Afrikaans, German, Herero
Religion: Christian, Lutheran and native
Government: Republic
Head of State: President Sam Nujoma
GDP: US$6.6 billion
GDP per capita: US$4,100.00
Annual Growth: 2%
Inflation: 7%
Major Industries: Mining (diamond, lead, tin, zinc, silver, tungsten, uranium, copper), meat packing, fish processing, dairy products, millet, sorghum, livestock, fish.
Main Trading Partners: UK, South Africa, Spain, Japan, Germany, USA.
| | | | | |
| --- | --- | --- | --- | --- |
| | Car Hire South Africa: Hire from international and local companies, which offer a wide range of cars, from budget to luxury. For the best deals we recommend you book your car before travelling. | | | |