Gauteng Maps
Map of Sandton, Gauteng
Sandton Map - Sandton CBD detail and street level map showing the landmarks of Sandton Central Business District and surrounding suburbs. Tghe map shows the location of landmarks including the International Convention Centre, Nelson Mandela Square and the Tourist Information Office. Sandton is the most important financial and business district in South Africa and sub-Saharan Africa. For additional information about Sandton please visit Sandton Information.
If you are interested in overnighting in the area, we can recommend some great hotels, guest houses and self catering establishments. Find them at Sandton Accommodation. If you're only planning on driving through Sandton, en-route to another destination, you may want to peruse our Sandton Restaurants before you leave to see if you should plan a stop here for lunch or maybe just a coffee. Also check out Sandton Things To Do to see if there are any activities for which you would consider stopping.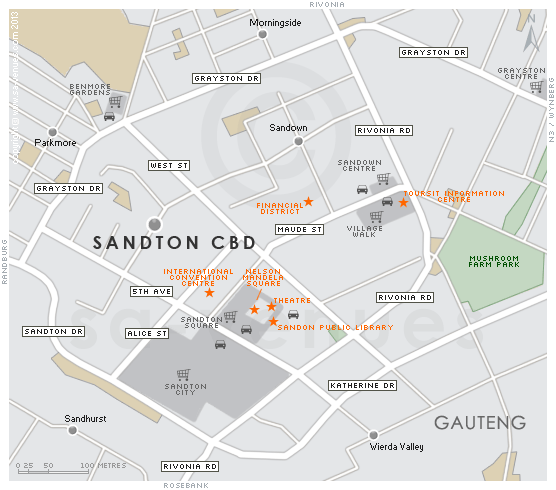 Related Links
Featured Attractions in (or near) Sandton

The Gautrain is an 80 kilometre mass rapid transit railway system, which is a long-winded way of saying that Johannesburg constructed a (really) fast train that cuts out all of the traffic to and from the airport, just in time for the Soccer World Cup of 2010. Its presence is estimated to cut 20% of the ... more information

Smack bang in the heart of Fourways - almost where the former set of stop streets originally stood before development ushered in a major set of roads and lights that admittedly make navigating Fourways far easier, but do away with the former charm of what used to be 'Fourways-out-in-the-sticks' - is ... more information

Situated in the heart of Sandton Central, in Johannesburg, South Africa, the Nelson Mandela Square is surrounded by world-class hotels and restaurants. The popular Sandton City Shopping Centre is adjacent to the Square. Sandton Square made headlines when, commemorating South ... more information
Roof-Top Market @ Rosebank Mall
50 Bath Ave, Rosebank. Sundays and public holidays from 9.30am - 5pm. The Rooftop Market is regarded by many as South Africa's best flea market, and is well patronised by locals and tourists. More than 500 stalls offer quality clothing, ceramics, art and craft objects, antiques and collectibles.

Sandton City
One of the main attractions in Sandton is Sandton City. This shopping centre is ranked among the largest shopping centres in Africa. Together with Nelson Mandela Square, the centre boasts over 144,000m² of shopping space making it the largest in the Southern Hemisphere! It is definitely any shoppers Mecca.

Sandton Convention Centre
Sandton is home to one of the largest convention centres on the continent. The 12-storey building has more than 22 000 m² of meeting, exhibition and special-event space. Multiple events can be staged simultaneously on four levels and up to 10 000 delegates can be hosted at any one time. Capacities range up to 4 500 guests.

Nestled in the leafy suburb of Illovo, Wanderers cricket ground in Johannesburg is regarded as the premier cricketing stadium in South Africa; certainly it is the largest test venue in the country with a seating capacity of 34 000 and 182 suites, leased by large corporate companies ... more information
Related Links
On Holiday in Sandton
• About Sandton
• Sandton Accommodation
• Sandton Hotels
• Johannesburg Accommodation
• Johannesburg Hotels
• Gauteng Accommodation

Baba Indaba Johannesburg
28 Mar. 2014 to 30 Mar. 2014
South Africa's premier baby show is the baby, toddler and parenting exhibition, held annu... more