Gauteng Maps
Map of Rosebank, Gauteng
Rosebank Map - Rosebank detail and street level map showing landmarks of Rosebank including the location of surrounding suburbs (Parktown, Parktown North, Dunkeld and Melrose). Rosebank is a vibrant multi-cultural district, business node and tourist attraction. For additional information about Rosebank and her attractions please visit Rosebank Information.
If you are interested in overnighting in the area, we can recommend some great hotels, guest houses and self catering establishments. Find them at Rosebank Accommodation. If you're only planning on driving through Rosebank, en-route to another destination, you may want to peruse our Rosebank Restaurants before you leave to see if you should plan a stop here for lunch or maybe just a coffee. Also check out Rosebank Things To Do to see if there are any activities for which you would consider stopping.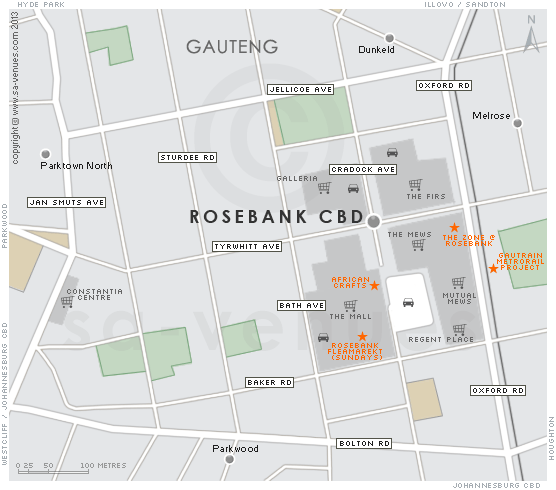 Related Links
Featured Attractions in (or near) Rosebank

The Gautrain is an 80 kilometre mass rapid transit railway system, which is a long-winded way of saying that Johannesburg constructed a (really) fast train that cuts out all of the traffic to and from the airport, just in time for the Soccer World Cup of 2010. Its presence is estimated to cut 20% of the ... more information

Melrose Wild Bird Sanctuary
Spend the day at the Melrose Wild Bird Sanctuary. Here one will witness a symphony of birdsong and vibrant colours. There are more than 120 wild bird species in the reedbeds and indigenous trees around the shimmering lake. Bring your picnic basket and enjoy a fun family outing in spectacular surrounds ...
Roof-Top Market @ Rosebank Mall
50 Bath Ave, Rosebank. Sundays and public holidays from 9.30am - 5pm. The Rooftop Market is regarded by many as South Africa's best flea market, and is well patronised by locals and tourists. More than 500 stalls offer quality clothing, ceramics, art and craft objects, antiques and collectibles.

The African craft market in Rosebank has turned shopping into a pretty unique experience, particularly for visitors and tourists to the area for whom an introduction to the rather exotic art and culture of Africa is a new experience. A range of arts and crafts is on display by skilled African artists from the ... more information
Related Links
On Holiday in Rosebank
• About Rosebank
• Visitorial - I ♥ Rosebank because ...
• Rosebank Accommodation
• Rosebank Hotels
• Sandton Accommodation
• Sandton Hotels
• Gauteng Accommodation
• South Africa Accommodation

AFDA Film Festival Johannesburg
14 Jun. 2014 to 15 Jun. 2014 tbc
AFDA School of Motion Picture Medium and Live Performance will unveil its highly anticipa... more