Things To Do in Rosebank

Rosebank Rooftop Market

Craft & Flea Markets Farm Stalls & Markets Sandton

Where? Upper Level, Mall of Rosebank, Baker Street, Rosebank

When? Sundays from 09h00 to 17h00

How? Call +27 (0)11 442-4488

How much? Free to browse

Overnight? Stay at accommodation in Rosebank, in Gauteng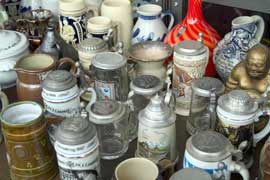 Get in amongst the hustle and bustle of the Rosebank Rooftop Market. Tourists flock to the market to collect African curios to take back to their home country.
This wonderful flea market is filled with a vast range of items spread over around 600 stalls. Herero u can peruse and purchase clothing, arts and crafts, carvings, jewellery, household items, makeup, gadgets and so much more.
A variety of food stalls offer fresh fruit and vegetables as well as cakes, confectionary and home made breads. You can also get a selection of ready made food items and preserves here.
A good idea would be to get together a bunch of tasty food items from the market to make up a great picnic and head over to one of the local parks with your market treats.