South African Languages
Xhosa (isiXhosa) Language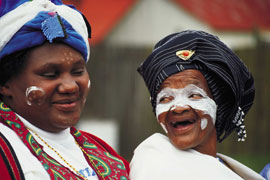 There are 11 official languages in South Africa and Xhosa is known to be listed as one of those languages. Approximately 18 percent of South Africa's population speaks the language, and when doing the maths, that makes it around 7.9 million people.

Xhosa is marked by a number of tongue-clicking sounds. Those that speak the language are usually involved in an ethnic group known as the amaXhosa, and to them this language is known as isiXhosa. An interesting fact is that the word "Xhosa" is derived from the Khoisan language, which means "angry men". A majority of the languages in South Africa which involve tongue-clicking, originate from the Khoisan. Xhosa is known to fall under Bantu language, and is also a representative of South-western's Nguni family. With this fact, South Africa's known to be Xhosa's native land, and especially the Eastern Cape - where the language is spoken everywhere. The Zulu people of South Africa have their own name for the Xhosa people, and this is KwaXhosa. When translated KwaXhosa simply means "land of Xhosa". Visiting the Western Cape and Gauteng one will also see many Xhosa people and hear them speak. Because Xhosa and Zulu are both classed as a Bantu language, if these two classes were to communicate with one another, often they will understand each other.


Xhosa has been grouped into quite a few dialects, and although the dialects are still being debated, the accepted dialect groups are: Xhosa (original), Gcaleka, Bhaca, Ngqika, Thembu, Mpondomise, Mfengu, Mpondo and Bomvana.
Xhosa is unusual, at the same time it is an attractive sounding language. To many, the language is difficult to learn mainly because the consonants are uncommon and also densely populated. The sounds are aggressive, which consists of English sounds, 15 clicks, ejectives and also an implosive. What learners battle with are the 15 clicks, and these are divided into 3 groups: the dental clicks - where the tongue presses against the person's teeth. The end result should be "tut-tut", alveolar clicks – where the tongue presses against the palate. The end result should be a sound resembling cork popping out of a bottle, and then the lateral click - where the tongue presses against the side of the mouth. The end result should be the sound one makes when calling a horse.
Learning to speak the language can be very challenging, but also very rewarding. The next time you decide to travel to South Africa's Eastern Cape don't forget to stop an amaXhosa and ask him / her to instruct you on a couple of phrases. There is no doubt that they will be eager to teach you a thing or two and share their historical language with you.

Did You Know?
There are 11 officially recognised languages, most of which are indigenous to South Africa. English is spoken everywhere you go. English is the language of the cities, of commerce and banking, of government and official documents. All our road signs and official forms are in English and at any South African Hotel, Bed and Breakfast or Guest House the service staff will speak to you in English.
Regional, relief and street maps, as well as maps highlighting the attractions, world heritage sites, game reserves, golf courses and more in each region .... over 200 maps to help you explore South Africa.