South African Languages
Afrikaans Language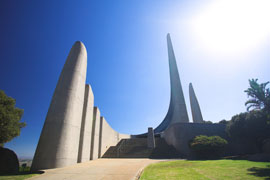 The Afrikaans language is one of South Africa's official languages and a majority of South Africa's population uses this as their first or second language. Afrikaans is a born language and attached is a fascinating history. The language is widely spoken in Namibia and spoken partly in Zimbabwe, Botswana and other countries. According to many English South Africans, Afrikaans is said to be a language that is dying, but this language has made its mark in society and the culture backing this language is rich.

The word Afrikaans in Dutch means "African". Afrikaans was created in Cape Town, which is home to various nationalities. The nationalities that make up the population of South Africa are Indonesians, Madagascans, Khoikoi, Dutch Settlers and West Africans. Afrikaans has become a new form of Dutch. Afrikaans's original dialect is referred to many as Kitchen Dutch, Cape Dutch or African Dutch. In the late 19th century Afrikaans was recognised as the separate language when Dutch was considered. 1961 was the year when Afrikaans became one of the 11 official languages with English. This gave the Dutch language the boot straightaway, although many people still speak the language around the country.


What make Dutch and Afrikaans different are grammar and the vocabulary. Afrikaans is considered to be a language containing "regular" grammar. This is ascribed to certain influences by Dutch-creole languages. A huge sum of vocabulary shows evidence of South-Hollandic Dutch origins. The Afrikaans language does contain words from English, Khoi, Xhosa, Asian Malay, Malagasy, San, Portuguese and French, although many of these words do sound extremely and noticeably different. The dialect in the North-eastern was a form of Afrikaans, and from this written-standard was developed. Afrikaans is spoken as a first language by 60 percent of white people and about 90 percent of coloured people. Many South African races use Afrikaans as their second language, and many black South Africans use it as their third language.
Afrikaans has been labelled by many critics as a very "ugly language", but apart from this the language has gained popularity in many countries in the world. Universities in Belgium, Netherlands, Germany, Austria, Russia and Poland are also teaching Afrikaans. In the year 1975 the
Afrikaans-Language Monument
(photo above) was built near the town of
Paarl
in the
Western Cape
. The structure was extremely impressive and was created to remember the statement of Afrikaans for being a language on its own.
The Afrikaans language had definitely made its mark, and if you are unable to learn a phrase or two when visiting this country ... "môre is nog 'n dag" (tomorrow is another day) or plainly: the opportunity will always be there.

Did You Know?
There are 11 officially recognised languages, most of which are indigenous to South Africa. English is spoken everywhere you go. English is the language of the cities, of commerce and banking, of government and official documents. All our road signs and official forms are in English and at any South African Hotel, Bed and Breakfast or Guest House the service staff will speak to you in English.
Regional, relief and street maps, as well as maps highlighting the attractions, world heritage sites, game reserves, golf courses and more in each region .... over 200 maps to help you explore South Africa.