Western Cape Attractions
Swartland, Western Cape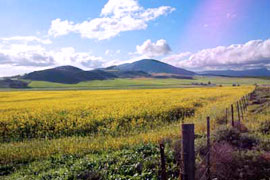 Once you've booked your hotel or Swartland accommodation explore our destination pages below for info on attractions, events and what to do in the Swartland.

The Swartland, otherwise known as the wheat and rooibos-producing part of the Western Cape, lies between Malmesbury in the south, across the Riebeek Valley to Piketberg in the north, Darling in the west, to the Oliphants Mountain at Porterville in the east. It begins only 50 kilometres outside of Cape Town making it fairly accessible to visitors, and its undulating wheat fields, vineyards and deep river valleys have been the topic of many a photographer's lens.

This incredibly beautiful, yet often overlooked, area is named for its wide fertile plains that, after the rains in winter, turn black (swart land means black land in Afrikaans). The wide, fertile plains are filled with golden wheat fields that have contributed to its status as the bread basket of the Cape. There are as many landscapes as there are seasons and the blazing wheat is interspersed with wine, fruit and olive plantations that give rise to a patchwork quilt of colour.

Darling, close to Cape Town and the highlight of many visits to this region, is home to Evita se Perron, the popular theatre and signature landmark of long time resident Pieter Dirk Uys that combines a restaurant with a little cabaret theatre.

Many of the vines on the Swartland Wine Route, which are visibly sign-posted and stretch throughout the region, grow under dryland conditions in bush form, which means they are not watered, resulting in a particularly excellent quality and flavour of wine, much sought after for blending with wine from irrigated vineyards.

Included within the parameters of the Swartland, Riebeek Kasteel and the Riebeek Valley have fast become a draw card for artists and those seeking alternative country-style living. Riebeek West and Riebeek Kasteel, twin towns that lie virtually on top of one another at the foot of the Kasteelberg, are extremely popular and worth a visit.
Swartland
Destinations / Town & Suburbs of the Swartland
Swartland
Featured and "Must See" Attractions in the Swartland
Swartland
Featured Things To Do in the Swartland
Swartland
Holiday Accommodation in Swartland
For accommodation in the Swartland see:
• Darling • Koringberg • Malmesbury • Riebeek Kasteel

Or to see all accommodation in this region at once, visit Swartland.

destinations / attractions in the western cape