Cape Town & Western Cape Tourist Attractions
Rhodes Memorial, Cape Town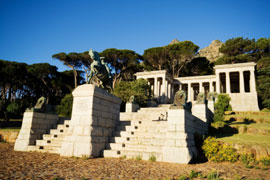 Rhodes Memorial, built in remembrance of Cecil John Rhodes who contributed greatly to the formation of the sub continent, lies on the northern flank of Table Mountain, at the base of Devil's Peak.

A national landmark, Rhodes Memorial lies within the Table Mountain National Park and the views from up here are stunning, offering panoramic vistas of industrial Cape Town, out over the airport and the Cape Flats, and on a clear day, the Helderberg and Hottentots Holland Mountain range. Built on the site where Rhodes was said to sit and restlessly contemplate his future, the memorial was designed by Sir Francis Macey and Sir Herbert Baker, and built with money raised by the citizens of Cape Town.

The memorial today is a popular venue for tea or lunch at the restaurant, which now occupies the original cottage built by Herbert Baker between 1910 and 1912. The designers used granite from the rock bases on which the mountain rests, incorporating the classical architecture so admired by Rhodes.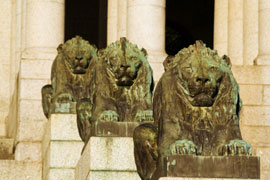 Forty nine steps - one for each year of Rhodes' life - lead down to a rostrum. The stairs are lined with granite walls on which statues of eight lions look out over Cape Town.
Rhodes' bust lies at the memorial, at the foot of the steps and identical to the statue in Kensington Palace Gardens in London.
Aside from tea at the restaurant, which is famous for its homemade cakes, there is a fairly easy three hour walk from Rhodes Memorial that follows a contour path along the slopes of the mountain all the way to
Kirstenbosch Gardens
.
Rhodes Memorial
Accommodation nearby
For accommodation near to the Rhodes Memorial see:
• Claremont accommodation • Constantia accommodation • Kenilworth accommodation
• Newlands accommodation • Observatory accommodation • Pinelands accommodation
• Rondebosch accommodation • Rosebank accommodation

Or to see all accommodation in this region at once, visit Southern Suburbs accommodation.
Related Links
Attractions / Activities nearby

Kirstenbosch National Botanical Garden is world renowned for the beauty and diversity of the Cape flora it displays and for the magnificence of its setting against the eastern slopes of Table Mountain. Kirstenbosch grows only indigenous South African plants. The Kirstenbosch estate covers 528 hectares ... more information

Groote Schuur
Groote Schuur began as an agricultural produce storage space in the 1600s. It later became the home of imperialist Cecil Rhodes and later still, the presidential home of South Africa's presidents since 1911. One can visit Groote Schuur by contacting the curator on Tel +27 (0)21 873 6789.