Cape Town & Western Cape Tourist Attractions
Helderberg Wine Route, Cape Wine Routes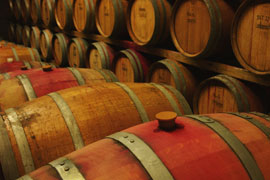 To view the individual wine estates on the Helderberg Wine Route, see Helderberg Wine Estates.

A sub-route of the Stellenbosch Wine Routes, the Helderberg route is only 15 minutes' drive from Cape Town's airport and is near the town of Somerset West. These vines lie on the slopes of the Helderberg and combine the influences of both a mountain and maritime climate, producing some very unique wines.

The 25 members of the Helderberg route follow distinctly different methods of growing grapes, from a 300-year old historical cellar to state-of-the-art boutique wineries and visiting the wide range of family-owned estates and grand manor houses is a superb weekend or day's outing. Helderberg wineries include Vergelegen, Ken Forrester Wines at Scholtzenhof Vineyards, Morgenster Estate, Post House Cellar and many others.

For additional information about the Cape Herlderberg Region, attractions, things to do and events and festivals see Cape Helderberg Information & Attractions.

Additional Reading:
If you are interested in the Helderberg Wine Route you may find our detailed article on this wine route informative. To view this article please see "Helderberg Wine Route".
Helderberg Wine Route
Accommodation nearby
For accommodation in the Cape Helderberg Region see:
• Somerset West • Strand • Gordons Bay • Sir Lowrys Pass

Or to see all accommodation in this region at once, visit Cape Helderberg Accommodation.
Helderberg Wine Route
The Wine Estates in Cape Helderberg

The Helderberg Region is part of the wine-producing hub of the Cape Winelands in the Western Cape. It comprises the Strand, Somerset West and Gordon's Bay, along with a few of the other small surrounding towns. Therefore, this area is the first seen as visitors travel over ... more information

destinations / attractions in the western cape