Mpumalanga Tourist Attractions
Highlands Meander, Mpumalanga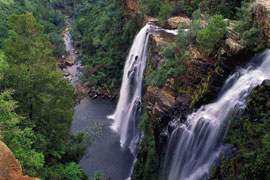 Once you've booked your hotel or Highlands Meander accommodation explore our destination pages below for info on attractions and what to do in the Mpumalanga Highlands.

The Mpumalanga Highlands Meander is situated in the higher reaches of the escarpment and it is sandwiched between the Cultural Heartland and the Panorama Route regions and includes the towns of Belfast, Dullstroom, Lydenburg, Machadodorp and Waterval Boven.

The Highlands Meander is a region for both nature lovers and the adventurous at heart. Dubbed the 'Trout Mecca' this region has an abundance of pristine fishing waters that never cease to lure fly fishers in their droves.

The imposing mountains and rivers of the Mpumalanga Highlands presents the opportunity for adrenaline pumping activities such as rock climbing, abseiling, canoeing, hot air ballooning and paragliding to mention a few.

Major highlights of the region include a vibrant arts and crafts community.

destinations / attractions in mpumalanga