Gauteng Tourist Attractions
South African State Theatre, Pretoria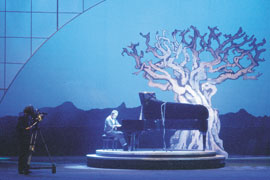 The huge State Theatre complex in Church Street in Pretoria / Tshwane, with its five theatres and huge public square, opened in 1981 as a non-profit, government funded company famous for lavish productions that saw overseas opera singers and ballet dancers grace the huge main stage alongside a permanent opera ensemble and chorus, ballet company, dance company, drama company, and all the departments necessary to support a working theatre.

Today the State Theatre continues to host a variety of blockbuster shows and local talent, but not before a rather embarrassing 'mothballing' in 2000, due to a loss of millions of rands in an investment scam, and with it, the loss of hundreds of jobs. Theatres in the country, including the State Theatre, which re-opened its doors the following year, are now dependent on public funding and tend to suffer from a rather politically conservative approach to theatre that produces 'safe' and politically correct theatre in a bid to please the board, rather than the public.

But theatre continues to grow. If anything, those aspects of theatre that were once taken for granted have had to find ways of creating a platform, and the State Theatre carries on hosting wonderful productions that draw crowds on a regular basis.

The centrally situated State Theatre can accommodate almost any performance or special event and does so on a regular basis. From international conferences, festivals, product launches, film festivals and fashon shows, the complex also reguarly features world-class shows ranging from Opera, Ballet, Musical, Drama, Cabaret and Children's Theatre.

Address: Corner of Prinsloo and Pretorius Streets, Pretoria City Centre, Gauteng.

destinations / attractions in gauteng