South Africa Outdoor Activities
White Water Rafting in South Africa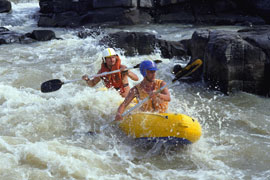 White Water Rafting in South Africa - As relaxing and enjoyable as a gentle river cruise is, there's an ever growing group of people who prefer the thrills and excitement of a rough and adrenaline packed South African white water rafting trip. South Africa is home to some awesome torrential rivers promising exhilarating white water rafting adventures. Under professional guidance, novices as well as experts can experience hours of enjoyable and challenging adventures.
Probably the most well known river in South Africa, the Orange River, runs through the mountainous desert area known as the
Richtersveld
. Whilst for the most part, the river is still and scenic it is also known for its fun rapids. There is a one-day rafting trip above
Augrabies
which features some exciting but not too radical rapids.
The Vaal River has some fun petite rapids and is very close to
Johannesburg
so it is a popular destination for both family and corporate trips. Bring your family, friends or colleagues, come and explore
Parys
white water adventure and experience a river trip you will never forget, only one hour's drive from the centre of Johannesburg.
Down in the
Western Cape
you'll find the Doring River where slightly more advanced white water rafting enthusiasts can test their skills. Running through the
Kogelberg Nature Reserve
, the Palmiet River is an absolutely wonderful South African white water rapid and offers fantastic mechanical rafting opportunities and wonderful scenery. The trip offered takes one day and includes all meals and sometimes a visit to a winery. The Molenaars is a very technical run but only works for a few days immediately after heavy rain falls in the catchment area - which makes it a difficult trip to plan.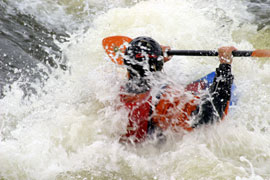 In KwaZulu Natal, The
Umkomaas
River on the glorious
South Coast
offers fantastic paddling with some fun and challenging rapid to navigate. Just north of
Durban
, the Umgeni River has some enjoyable rapids. The section paddled is part of the exhausting annual two-day
Dusi Canoe Marathon
. Blyde River in
Mpumalanga
is probably one of the most stunning rivers in the country and has rather steep gradients which make for some intense South African white water rafting.
Various companies offer rafting packages on the Umkomaas River and the Buffalo River. White water rafting is offered between November and April depending on the rivers' water level. For both novice and expert rafters, it is an exhilarating trip down one of the most scenic stretches of the
Umkomaas
, also know as the Mkomazi River.
Fully qualified S.A.R.A. rated white water rafting guides will guide you down 12-24 kilometres of wild water encountering grade 2-3 rapids. Two-man inflatable rubber ducks are used with the option of a seven-man raft for the more nervous paddlers. On the 2-hour, 12 kilometres option, drinks and snacks are included while on the 4 hour, 24-kilometre trip you will stop for lunch on the bank of this gorgeous river.
In 1993 the Buffalo River was opened up for white water rafting enthusiasts. In this little corner of
Zululand
, you'll find some of the most exciting white water rafting in South Africa. Buffalo River was rated the one of the top ten best in Africa by Getaway magazine and winds itself for 19km through private game farms on the one side of the river and the Northern border of Zululand on the Eastern Coast of
South Africa
on the other.
In amongst the fun and adventure, be sure to look out for the magnificent bird and animal life along the banks. One or two day rafting trips are also on offer.
South Africa offers a plethora of glistening rivers that are ideal for exciting South African white water rafting experiences.
South Africa Outdoor Activities
Featured White Water Rafting Destinations

South Africa Car Hire
Hire from international and local companies, offering a wide range of cars, from budget to luxury groups.