South Africa Outdoor Activities
Seal Trips in South Africa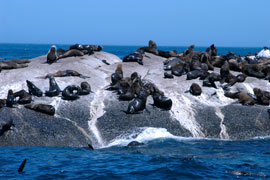 Seal Trips in South Africa: Whilst the South African coastline provides some gorgeous views of crystal blue oceans and glistening golden beaches, the marine life in South African waters is just as marvellous. There are vast amounts of Seal colonies all along the South African coastline - an almost endless array of opportunities to enjoy South African seal trips.
Among the many variations of South African seals is the Cape Fur seal. Whilst most seals have a relatively thin layer of fur, Cape Fur seals have a thick layer of short soft fur, which is protected by a layer of longer, harder hair. When the top layer gets wet the bottom layer remains dry. The bottom layer as well as the fat formation under the skin gives the seals a good isolation against the cold currents. The male seals can weigh from 187kg to 360kg and are very territorial whilst looking after their harem of 5 to 25 females. Cow seals are a lot smaller than bulls and they only weigh up to 75kg. A few weeks after the bulls have arrived, the pregnant cows come to the colony to have one youngster. The pregnancy lasts for about 8 months. One bull has about 5 to 25 cows in his territory and only 7 days after giving a birth the next rutting season starts.
Cape Fur Seals are easily seen between the
West Coast
and Port Elizabeth as they live in sizeable colonies, usually on offshore islands. A memorable South African seal trip is that of Dyer Island where annual pupping of the seals takes place. Most youngsters are born in November or December and they weigh about 4.5 to 7kg. When seal pups are about 7 months old they can stay in the water for up to 4 days. Observe the beautiful and endearing seal puppy's antics and how the parents look after them.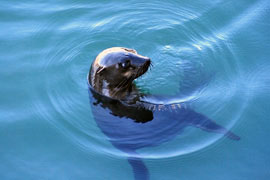 Seal Island near
Hout Bay
is also known for its enormous colony of Cape fur seals and seagulls. There are many companies offering amazing seal trips. You will also observe the looming Sentinal mountain, shimmering waters and magnificent sandy beaches along the coastline.
Tigger 2 Charters
offer a cruise departing from Hout Bay Harbour. Go for a 3 hour sightseeing cruise along the rugged coast of
Chapman's Peak
, around the Sentinel to view the antics of the seals at Seal Island, then further along the coast to view the looming shipwreck in Maori Bay, past Sandy Bay to admire the sights both on and around the beach and past
Llandudno
Beach to view the 12 Apostles (the route depends on the mood of the Captain!).
Every year, the Cape West Coast becomes the chosen destination for the Southern right Whales. It is here where they spend their days mating, calving and feeding on seals. In fact, one of the reasons they migrate to this area is because of the abundance of seal colonies that inhabit this area. Seal trips will give you the opportunity to not only to observe and learn more of the seals but also witness whales in all their glory.
Plettenberg Bay
offers seal trips to visit the seal colony on the Robberg peninsula and
Mossel Bay
boasts a seal island 100m long and 50m wide - home to approximately 5000 seals.
Seal trips in
South Africa
will help you gain a further understanding of these gorgeous creatures in their natural habitat. See how they play, mate, calve, devour fish and look after their young. Along with observing seals, you will experience the magnificent South African coastline and all its wonders.
South Africa Outdoor Activities
Featured "Seal" Activities

Where: Kommetjie
How much (per person): On Request

Join Scuba Shack and swim with the seals and watch them dart around gracefully in the water below you. Interact with these curious animals and have ... more information

Where: V&A Waterfont
How much (per person): On Request

Look out for Alfie the Seal! This is a scenic guided Harbour cruise through the working Harbour of Cape Town, seals, ships and much much more ... more information


Combine your wildlife safari with a relaxing, revitalising visit to a health spa ... and enjoy Africa at its finest. View our exclusive collection of spas, wellness centres and health resorts in South Africa.