South Africa Outdoor Activities
Scuba Diving in South Africa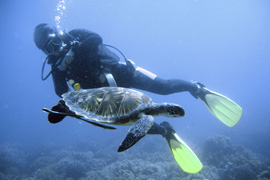 Scuba Diving in South Africa - There is nothing quite like the absolute beauty of scuba diving in
South Africa
. The sea life and intricate reefs you'll observe when scuba diving in South Africa will leave you reeling in disbelief. South Africa is an ideal location for some spectacular scuba diving as it has an extensive coastline with widely varied conditions and water temperatures.
The Mozambiquan current that flows down the eastern side of South Africa brings a warm current down this coastline and therefore makes the waters ideal to spot great white sharks, whales, whale sharks, dolphins, turtles, manta and eagle rays, and naturally beautiful coral reefs too.
There are so many places to enjoy scuba diving in
South Africa
. There are dive schools in almost every city in South Africa providing all the efficient training and equipment you need. Cape Town's water is extremely cold but do not let that deter you. Cape Town oceans contain the most beautiful kelp forests. There are three main types of kelp known to man and this part of the
Western Cape
coast is the only place in the world that they all grow together. Diving in kelp is like walking in a forest. You float beneath the canopy and admire the astonishingly colourful reef life.
Just off Cape Town, divers regularly see anemones in colours ranging from electric blue or deep red to pale pink, as well as nudibranchs of all sorts of radiant colours and a whole assortment of small creatures in and around the bright orange and sulphur yellow sponges.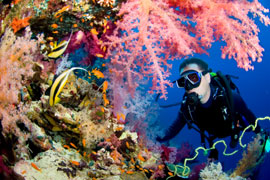 Near
Johannesburg
and in
Mpumalanga
there are inland dive resorts where students have the opportunity to do dive training in an abandoned quarry. There are also a wide variety of scuba diving resorts in South Africa like Rocktail Bay and Sodwana Bay.
Dive South Africa offers numerous scuba diving adventures and safaris. The safari's are run from the dive lodge and offer comfortable and great quality
accommodation
and scrumptious food. You will have fantastic opportunities to see the wrecks and caves of South Africa and go diving with sharks. Dive South Africa even offers tailor-made safari's to suit your time and budget. Adventure Diving Safari's offer awesome scuba diving safari's and holidays to South Africa and Mozambique. Coral Divers in Sodwana Bay in
KwaZulu Natal
operate a dive camp and offer numerous dive packages, equipment hire, as well as various PADI dive courses. Dive the Big Five offer tour packages and safaris that put forward all kinds of diving around South Africa, from reef to wreck, shark and cage diving.
No matter where you choose to scuba dive in South Africa, we guarantee an unforgettable time. An underwater camera is a definite so you can capture the astonishingly beautiful marine life in South African waters.
South Africa Outdoor Activities
Featured Scuba Diving Accommodation

Where: Umkomaas Accommodation

We are located close to Dive Charters for divers who wish to dive the Aliwal Shoal, which is one of the top ten dive sites in the world. We can arrange all your dives and dive courses for you if required. We can arrange ... more information

Where: Sodwana Bay Accommodation

Toad Tree Cabins at Sodwana Bay in KwaZulu Natal is a fully equipped, birder friendly, rustic camp which serves as a weekend and holiday destination for scuba divers and nature lovers ... more information
South Africa Outdoor Activities
Featured Scuba Diving Destinations

Where: Mabibi
How much (per person): On Request

Mabibi lies adjacent to Africa's southern-most coral reefs making it the only tropical dive site in South Africa. In global terms, Mabibi offers some of ... more information

Where: Port Elizabeth
How much (per person): Free

For certified scuba divers, there are a wide range of dive spots around Port Elizabeth. Try Bell Buoy; a large reef which covers almost 5 acres with depths ... more information

Where: Northcliff
How much (per person): On Request

Backward roll off the landlocked Gauteng province into a sea of diving vacation opportunities. South Africa's coast is abundant with rich sea life ... more information