South Africa Outdoor Activities
Paragliding in South Africa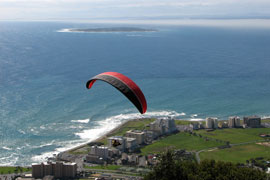 For the longest time, it has been man's ambition to fly in the sky and experience the exhilaration of being semi weightless and to explore landscapes from high in the sky. Paragliding in South Africa will allow you to fulfil these ambitions and experience all the spectacular wonders of South Africa.
Most of the country is raised to 1000m above sea level on a large plateau and the coastlines receive plenty of wind. The best time of the year for paragliding is in January and training usually takes place in April. Paragliding easily combines the excitement of flight with simple and cost free preparation. Feel the adrenaline pumping as you soar through the sky and admire the exquisite scenery of South Africa.
Paragliding is offered throughout
South Africa
but is most spectacular in the
Garden Route
. The Garden Route boasts an abundance of valleys, estuaries, lagoons, exquisite coastlines and lush indigenous forests. There are numerous paragliding sites in this area.
Plettenberg Bay
offers sites such as Arch Rock, Piesang Valley, Castleton and Uplands.
Knysna
boasts magnificent sites such as Pilot's View, Knysna Heads, Knysna Tower, Brenton, Eagles Nest and Buffels Bay.
Sedgefield
offers Sedgeview and Gericke's Point whilst Wilderness has Paradise Ridge, Kleinkrantz Dunes, Kleinkrantz Carpark and Serpentine.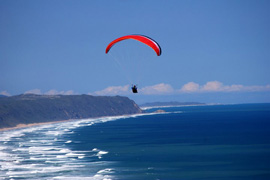 A short drive from Knysna will bring you to the quaint, but fast growing town of
George
where you can enjoy South African paragliding at spots like JB's, Du Toits, Hersham, Tussen Riviere, Hartenbos, Pencils and Dana Bay. There are Paragliding Adventure Companies that offer paragliding tuition, license courses, accommodation, awesome 10 - 14 day guided tours at these amazing flying sites, equipment sales and rental.
Cape Town
is absolutely magnificent and is an ideal place to enjoy South African paragliding. View the stunning city, winelands, shimmering waters, indigenous forests and the magical
Table Mountain
from a birds eye view. Spring transforms
KwaZulu Natal
into an aerial playground. Experience the breathtaking paragliding adventures and magnificent views of magical mountain ranges, indigenous forests and valleys that the KwaZulu Natal Province offers
South Africa is truly a spectacular and unique paragliding destination. Come and experience all the spectacular scenery this country boasts from a birds eye view.
South Africa Outdoor Activities
Paragliding Photographs

Where: Paragliding off Lions Head, Cape Town
By: Ryan Minaar

Paragliding photographs taken in Cape Town with thanks to and © Ryan Minnaar of Paraglide South Africa. Paragliding off Lions Head, Cape Town ... Click to view
South Africa Outdoor Activities
Featured Paragliding Destinations

Where: Cape Town
How much (per person): On Request

For those who want to find out what paragliding is all about but cannot commit two days to learning, we offer tandem flights. Tandem Paragliding is ... more information

Where: Wilderness
How much (per person): On Request

Cloudbase Paragliding offer paragliding tuition, license courses, powered paragliding tuition, tours, and equipment sales and rental. Based in the ... more information