South Africa Outdoor Activities
Free State Hiking Trails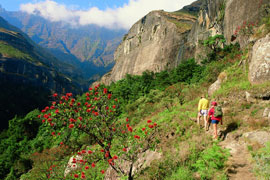 Free State Hiking Trails - The Free State offers many interesting and fantastic hiking trails that range from being educational to simply eco routes. There are an abundance of hiking trails traversing differing terrains. Overnight facilities on hiking trails throughout the region are standard and enable the hiker to enjoy the spacious scenery over a number of days.

The Bushmans Cave Hiking Trail in Fouriesburg allows you to discover Bushman rock art, magnificent views over Lesotho, an unfinished castle on top of a cliff, an old fort and a stunning diversity of bird life. Many of the ancient Bushman paintings are well preserved giving you the once-in-a-life-time opportunity to witness them. There are three different hiking trails ranging from 3 to 16km in length namely The Hoenderkop Hiking Trail, The Old Fort Hiking Trail, and The Bird Trail. The Hoenderkop Hiking Trail leads through a gulley and along ridges to the unfinished castle. The dream of constructing this castle was halted in 1976 due to lack of funds and it has now become a prominent landmark. From the top you will experience an uninterrupted view of Lesotho.

The Old Fort Hiking Trail leads to a cave full of puzzling Bushman paintings. The hiking trail eventually leads to an old fort dating back to the Anglo-Boer war. You will experience magnificent views and historical education. The Bird Trail is a short walk to a shimmering valley near the overnight camp. Here is where you will find the abundance of magnificent birds that inhabit this area. Over 103 different species have been identified.

The Christmaskrans Hiking Trail in Marquard is a 13km circular trail taking 1 day to complete. This beautiful hiking trail will lead to a legendary cave where bewildering Bushman rock art and sand formations can be seen. Your overnight stay will be in an old sandstone school that sleeps 8 people and contains mattresses, a woodstove and a bush toilet.

The Mont-Aux-Sources Hike in Harrismith is a trail that offers you picturesque views of the immense Drakensberg. The trail will lead you along a terrain that is very mountainous with deep valleys and high peaks. These peaks are between 3000-3250m above sea level! You will experience the true way the Sotho people live and may even spot buck, eagles and vultures. The best part of the trail is passing the magnificent parts of the Drakensberg region.

The Rhebok Hiking Trail is a 31km circular hiking trail and will take 2 days to complete. The trail is through a gorgeous mountainous area which boasts many shimmering streams, waterfalls and looming mountain kloofs. Accommodation consists of the Rhebok Hut which accommodates 18 people and contains lamps, a stove, cooking utensils, washing facilities, braai facilities and firewood, 2 flush toilets, a shower and running water.

The Sentinel Hiking Trail is a magnificent trail that leads onto the top of the Drakensberg plateau. It is here where the snow falls in Winter and makes for the most exquisite scenery. The Golden Gate National Park is nestled in the magical Maluti Mountains and is home to a diversity of mammals namely black wildebeest, eland, blesbok, oribi, springbok, Burchell's zebra and beautiful birds. It obtained its name from the magnificent golden-hued sandstone cliffs. This park offers a variety of awesome hiking trails promising magnificent views. Places of interest include the Van Reenen family graveyard, the Brandwag buttress rock formation and a gorgeous bird hide at the Langtoon Dam not to mention the breathe-taking views of the Drakensberg.

The Free State offers numerous awesome hiking trails leading through the most magnificent terrains. Come and enjoy it with us.
Free State Hiking Trails
Featured Hiking Trails in the Free State
Free State Hiking Trails
Camping & Backpackers Lodgings ideal for Hikers

The Free State offers camping sites in popular holiday destinations - near wildlife parks and famous landmarks - on the coast and on popular tourism routes. Cars, caravans, campers and tents can be hired in all major centres and give travellers the freedom to explore the countryside by themselves ... more information

Free State Backpacker hostels offer excellent value for money, hospitality and a safe and friendly, laid-back atmosphere. Deal direct and save! Your enquiry goes directly to the Free State Backpackers Lodge or Hostel of your choice - you pay no commissions or booking fees when making your reservations ... more information

Looking for Things to Do in the Free State?
Search for extreme sports (and service providers), wildlife activities, watersports, family entertainment and other activities ... See Things To Do in Free State.