Game Reserves in South Africa
Garden Route Game Reserves
The Garden Route includes one of the most beautiful stretches of coastline that winds its way for some 200 km via George, Wilderness, Sedgefield and Knysna on to Plettenberg Bay and culminating in the Tstisikamma Forest - a fairyland of giant trees, ferns and bird life. Be sure to add a visit the worlds first free roaming multi-specie primate sanctuary to your itinerary and the uniquely beautiful nature reserves that form an integral part of the beauty of the Garden Route.

Garden Route Game & Nature Reserve Map:
Click on the game or nature reserve on the map (or use the detailed lists below) to view additional information about the Nature, Game Reserves and National Parks and for listings of all Game Lodges listed in the relevant area.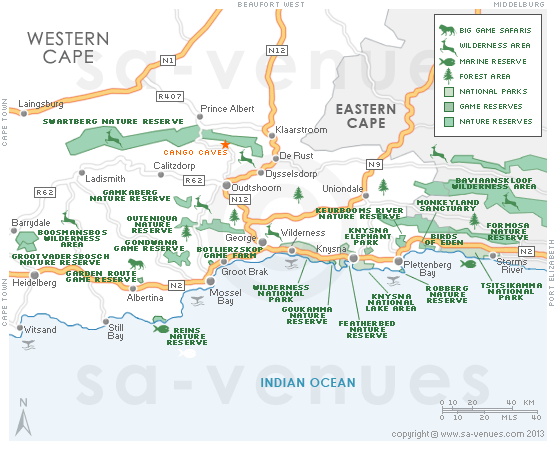 Garden Route Tours
Experience a unique Garden Route Wildlife Safari or Garden Route Tour / A wide range of leisure options and spectacular scenery guarantee an unforgettable holiday experience in the Garden Route. Choose a package tour ranging from a single overnight stay to multiple days or visit one of the Garden Route Reserves as a day trip - There are plenty of options to choose from at Garden Route Day Tours.