Things To Do in Louis Trichardt

Lajuma Research Centre

Nature Reserves Volunteering Soutpansberg

Where? Located +/- 50km from Makhado / Louis Trichardt (and +/- 40km from Blouberg Nature Reserve in the other direction, in the Soutpansberg, Limpopo

When? Please enquire about their various programmes.

How? Call +27 (0)21 402-0259 or +27 (0)83 308-7027

How much? Price on request

Overnight? Stay at accommodation in Louis Trichardt, in Limpopo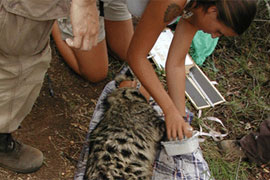 Lajuma research centre is situated high in the Soutpansberg range and is one of the few places in South Africa where you can find handprints. Some believe they were they were made 2000 years ago by nomads who raised livestock, others think they came from the San. The clusters and pattern of the handprints made in red, yellow and white paint is still a mystery and still open for interpretation.
Other San images have been found including those of humans, an elephant, handprints and a giraffe.
Lajuma is a natural heritage site and not only has breathtaking views with exquisite plant and animal life but also has fascinating archaeological sites. This malaria free area has clear mountain streams, gorgeous waterfalls and is close to popular tourist destinations.
The research centre at Lajuma, is incredibly interesting and also focuses on community outreach and education.