Things To Do in Sodwana Bay

Seevarkie Deep Sea Fishing Charters

Fishing Sports & Leisure Elephant Coast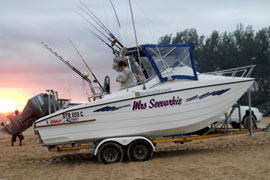 Seevarkie Deep Sea Fishing Charters offer fishing charters on a choice of 22.5ft or 21ft boat, named "Mrs Seevarkie" and "Seevarkie" respectively.
The boats are well equipped for bill- and game- fishing and the captains and skippers are very experienced. Five people can be taken out to sea at a time and we only go out if weather permits it.
Our fishing hours are from early in the morning (we start just after six) and we are out until after lunch in the afternoon. Our rates are all inclusive except for food and drinks.
Come and join us in Sodwana Bay and experience our unique hospitality on 'Mrs Seevarkie'!