Things To Do in Ballito

Quadbiking Trails with FatTraxx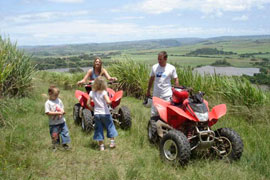 1,2 3 hour quad bike trails meandering through the rolling sugar fields of Natal. Fat Traxx offers you the adventure of a lifetime to explore the Dolphin coast in a unique and thrilling way. The out-ride in Ballito is a breath taking off-road ride customized to suit your needs from beginners to intermediate riders. Young and mature thrill seekers enjoy this adventure.
The outride is a round trip that meanders across four private sugar estates. The trail will take the riders along cane breaks, over hill climbs, through muddy patches, over water crossings, across bridges, and along narrow bush paths. The level of difficulty of the trail is dependant on the client; our guide will take you on a slow sight seeing meander or a technically advanced trail.