Eating Out in Margate

Fish on the Pond

Where? 1 Marina Drive, Marina Beach, Margate, South Coast

When? Monday and Tuesday from 09h00 to 17h00.
Wednesday to Saturday from 09h00 to 20h00.
Sunday from 09h00 to 15h00.

How? Call +27 (0)39 313-0907

Overnight? Stay at accommodation in Margate, in KwaZulu Natal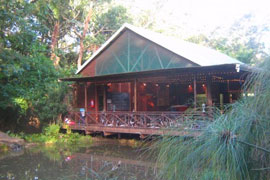 Fish on the Pond is a stunningly revamped restaurant found on the Bushwood Estate on the South Coast of KwaZulu Natal. Formerly known as the Marina Beach Tea Garden the restaurant was given a makeover in October 2009 by the locally well known group; Fish on the Pond.
The owner catches fish on his commercial fishing boat and drops the fresh catch off the restaurant … you can be assured that you will be eating only the freshest of fresh fish here! Also on the estate is the Simply Indigenous Nursery - as one of the biggest nurseries on the South Coast, they offer a wide variety of plants including ground covers, herbs, grasses and water plants. The aim of the nursery is to promote the planting and rehabilitation of all indigenous plants in the country.