Things To Do in Hillcrest

The Heritage Theatre

Nightlife & Theatre Durban Valley of 1000 Hills

Where? Heritage Market, Shop 14u, 9 Old Main Road, Hillcrest, Durban.

When? Show Times are Tuesday to Saturday at 19h00 (Curtain-up 20h30) and Sunday Matinee at 12h30 (Curtain-up 14h00).

How? Call +27 (0)31 765-4197

How much? Falls into price group R101 to R200 per person. Confirm with the provider.

Overnight? Stay at accommodation in Hillcrest, in KwaZulu Natal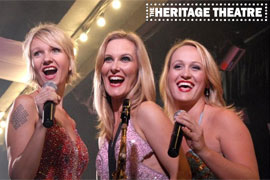 The Heritage Theatre was Durbans first purpose built supper theatre venue, offering great shows and great food combined with excellent service. The Heritage Theatre venue provides the perfect venue for Supper Theatre. The seating layout is designed to allow everyone a good view of the stage which is fully equipped with professional lighting and sound equipment.
Enjoy a welcome drink in the foyer or head for the bar to have a few more pre show drinks and then enjoy the show in comfort whilst savouring your dinner. Visit the Website for current and forthcoming shows and to book.