Eating Out in Arcadia

Zemara

Where? 933 Schoeman Street, Arcadia, Pretoria, Gauteng

When? Monday to Sunday from 11h30 to 23h30.

How? Call +27 (0)12 342-3080

Overnight? Stay at accommodation in Arcadia, in Gauteng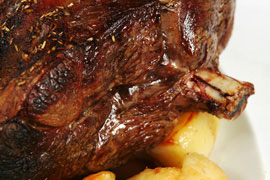 The Zemara Restaurant is nestled within the Pretorian suburb of Arcadia, and offers cuisine that stands out from the rest. This menu is focussed on delicious delights from all over southern, central, eastern and western Africa. Many of these dishes are exotic and adventurous, while others are guaranteed to appeal to the less daring palates and preferences. The extensive menu is complemented by a wide range of refreshments, which set each dish off to perfection.
Some of the cuisines featured at Zemara include Congolese, Angolan and Senegalese favourites. Fresh ingredients and ample portions make for a very special dining experience. The atmosphere in this restaurant is comfortable and friendly, without being unprofessional.