Eating Out in Johannesburg Central

Visit Joburgs oldest Restaurant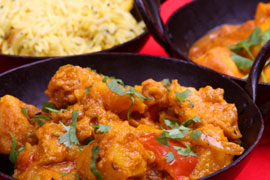 It is with great sadness that we have to advise that Madanjit Ranchod died in December 2007, and Kapitan's subsequently closed.
Kapitan's Oriental provides traditional Indian curry cuisine at their restaurant in Johannesburg.
Visit Joburg's oldest restaurant (over a century) and still going strong despite its downtown location. Kapitan, who has been cooking curries for over 57 years, remembers Mandela sampling his first Campari here.
Beware the Madras curry - its hot enough to start a fire.
Please Note
Business details can change. All information is published in good faith as supplied by the providers. Please check with the provider that the activity/business is still offered as described above, before making any travel plans.