Eating Out in Faerie Glen

The Greek Easy Ouzaria

Where? Block F Boardwalk Centre, Corner of Haymeadow Street and Hans Strijdom, Faerie Glen, 0043, Pretoria, Gauteng

When? Monday Closed.
Tuesday to Thursday from 12h00 to 23h00.
Friday and Saturday from 13h00 till late.
Sunday from 12h00 to 15h00.

How? Call +27 (0)12 991-7963

Overnight? Stay at accommodation in Faerie Glen, in Gauteng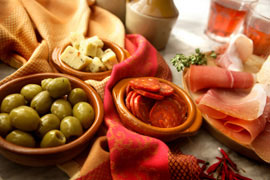 Have a traditional, fun Greek experience at the Greek Easy Ouzaria, which is set along the Lakeside Boardwalk. The warm and inviting atmosphere is complemented by wooden decks that surround the restaurant, and tranquil views. This may be a typical Greek tavern, but it certainly retains its class and elegance.
The cuisine is made up of a subtle combination of Greek and Mediterranean flavours. While the flavours are authentic, the dishes are designed to appeal to a range of tastes and preferences; offering something for just about everyone.
A tavern like the Greek Easy is just not complete without entertainment to create a vibe. Be ready for plate breaking, belly dancing and live music on Fridays and Saturdays.