Eating Out in Waterkloof

Gameal's Cedar Café

Where? 103 Club Avenue, Waterkloof Heights Shopping Centre, Waterkloof Heights, Pretoria, Gauteng

When? Monday to Friday from 07h00 to 18h00.
Saturday from 07h00 to 17h00.
Sunday from 09h00 to 14h00.

How? Call +27 (0)12 460-9797

Overnight? Stay at accommodation in Waterkloof, in Gauteng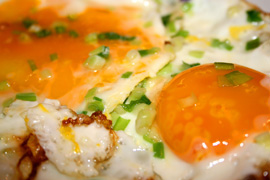 Situated in the Waterkloof Heights Shopping Centre, Gameal's Cedar Café offers traditional and delicious Lebanese fare. Jane Wood's love for beautiful Lebanese food began in her mother's kitchen: "I thank my mom especially for installing this wonderful gift in me. This shop has come about, in my mind and heart because, most importantly, feeding others through this gift is now my true passion.
Each day around food, around the table, reminds me of endless, wonderful, memorable times in my mom's kitchen, helping prepare these Lebanese dishes". The walls are decorated with old photographs of Jane's family, creating an atmosphere of warmth and authenticity. It is obvious that this is food that is made with heart.
Breakfasts include Lebanese style eggs, served on pita bread, sprinkled with Zatar (a Middle Eastern, thyme based herb) and freshly squeezed lemon juice. The Tapas Menu is filled with Middle Eastern favourites, such as Tabbouleh, Baba Ganouj and M'juda (lentils & rice served with a tomato salad and a mint & garlic dressing). A variety of olive dishes adds more Middle Eastern charm to the experience. A speciality is Gameal's Pita Pocket; a pita is filled to the brim with beef meatballs, grilled brinjals, pepper and caramelised onions and then served with a yoghurt, cucumber and garlic dip. Vegetarians will be delighted at the wonderful dishes they can order at Gameal's, as Middle Eastern food naturally caters to vegans and vegetarians.
A quote from Jane explains it all: "May you enjoy your experience with us as together we embark on a wonderful journey of love, friendship and filled tummies!"
Please Note
Business details can change. All information is published in good faith as supplied by the providers. Please check with the provider that the activity/business is still offered as described above, before making any travel plans.