Eating Out in Newtown

Dinner at Gramadoelas Restaurant

Where? Bree Street, Newtown, Johannesburg.

When? Open from Tuesday to Saturday for lunch and dinner. Closed all day Sunday and Monday lunch.

How? Call +27 (0)11 838-6960

Overnight? Stay at accommodation in Newtown, in Gauteng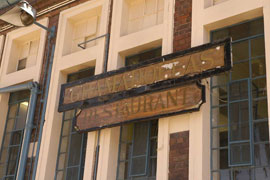 Gramadoelas restaurant in Newtown was established in 1967, and was the first restaurant to open its doors to all South Africans. Serving true South African food, it is the perfect place for dinner before enjoying a show at the Market Theatre. After serving the likes of Bill Clinton, Sir Richard Branson and the Queen of England, you should try it for yourself!
Encompassing the true South African Style of food making, the Gramadoelas Restaurant has every bit of South African culture etched into it's atmosphere, it's food and it's people. Owned by Brian Shalkoff and Eduan Naude, Gramadoelas cater from large well organized functions to small personal dinners.