Eating Out in Storms River

Tsitsikamma Restaurant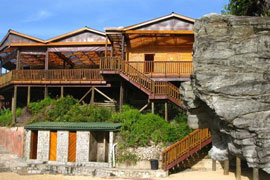 With the waves crashing just metres below and views of the Storms River Mouth and surrounding mountains, Tsitsikamma Restaurant has a winning formula in terms of its setting. This spacious eatery is flanked by the souvenir shop and the beach, which is usually teeming with young and old from all over the world. There is a large outdoor section for those wanting to smell the fresh sea air and feel the cool breeze while they eat, as well as a smaller indoor section. The entire area is sheltered.
Menu items include the usual burgers, fish 'n chip, spare ribs, and so on. But, there are also interesting features, like baby calamari in chilli orange butter (R99 in January 2013) or Thai red prawn curry (R109 in January 2013). The portions are generous, the meals tasty and the service friendly. Due to its being positioned near the campsite and chalets, there are plenty of children running around enjoying their family vacation, and diners should be prepared to relax and enjoy the laid-back ambience.
The famous suspension bridge over Storms River Mouth is only 900 metres from the restaurant and is well worth the visit.