Undoubtedly the best known and most popular of the South African hiking trails, the Otter Trail must rank alongside the best trails in the world. The Otter Trail follows the spectacular Garden Route ...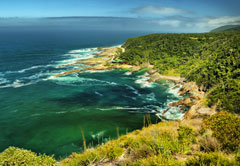 Tsitsikamma Marine Protected Area is considered one of the most important conservation areas in the country. Not only does it conserve 11 percent of the country's Temperate South Coast shoreline, but it also ...
The Tsitsikamma National Park is situated at the heart of the picturesque tourist region known as the Garden Route, found in the Southern Cape of South Africa. Tsitsikamma is a Khoisan word meaning, "place of ...