Restaurants in Bethal
Restaurants: Cafés & Coffee Shops
Showing 1 of 1 restaurant in this category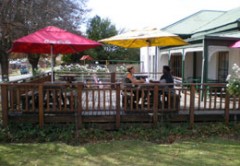 Where? Bethal
A mural of a cow jumping over the moon will bring a smile to your face and the décor will contribute to a relaxed meal. The menu at Die Groen Koei Coffee Shop offers a variety of delicious light meals such as ...
Filter restaurants
in Bethal, Mpumalanga
©Unauthorised use of the
photos is strictly prohibited.