Restaurants in Greenside
Restaurants: Casual Dining
Showing 1 of 1 restaurant in this category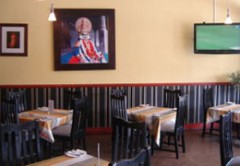 Where? Greenside
Spiceburg Restaurant is situated on Gleneagles Road road in the trendy, bustling suburb of Greenside. With the verandah covered, guests can enjoy the outside hustle and bustle in any weather. The interior is ...
Restaurants: Cafés & Coffee Shops
Showing 1 of 1 restaurant in this category
Where? Greenside
Nestled in the heart of Greenside, the Greenside Café is a vegetarian and vegan haven. The food is prepared with integrity, love and mindfulness for human beings, other beings, and the planet. Greenside ...
Filter restaurants
in Greenside, Gauteng
©Unauthorised use of the
photos is strictly prohibited.