Restaurants in Harrismith
Restaurants: Casual Dining
Showing 1 of 1 restaurant in this category
Where? Harrismith
Smiley's Sunday buffet itself is worth the visit to Verkykerskop. Good old traditional boere food, cooked to perfection. Enjoy handsome cuts of roasted meats with potatoes, rice and a wide selection of ...
Restaurants: Bistros & Pubs
Showing 1 of 1 restaurant in this category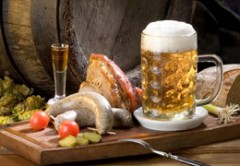 Where? Harrismith
If you are a fan of pub grub then you might want to plan a trip to Durban if you live in Jozi or vice versa if you live in Durbs. You donít need more of a reason to stop halfway and drop in at The Hound and ...
Filter restaurants
in Harrismith, Free State
©Unauthorised use of the
photos is strictly prohibited.