Restaurants in Addo
Restaurants: Fine Dining
Showing 2 of 2 restaurants in this category
Where? Addo
The food style at Africanos Country Estate Restaurant and Sushi Bar is modern African and anything from Gourmet Salads, Burgers, Pizza's, grill items including Fillet, T-Bone, Rump, Marinated Ribs, Prawns, ...
Where? Addo
The gourmet food is inspired by the flavours of local ingredients and freshly picked vegetables and herbs from our own garden. No effort or expense is spared to provide a fine dining experience bursting forth ...
Restaurants: Cafés & Coffee Shops
Showing 1 of 1 restaurant in this category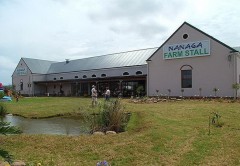 Where? Nanaga
The Nanaga Farm Stall is one of the most famous and recognized land marks in the Eastern Cape, South Africa. There are very few people from this region who have not had Nanaga interwoven into their lives - ...
Filter restaurants
in Addo, Eastern Cape
©Unauthorised use of the
photos is strictly prohibited.