KwaZulu Natal Child / Family Friendly Accommodation
Child friendly hotels and accommodation in KwaZulu Natal - including family hotels, guest houses, bed & breakfasts, holiday apartments, suites, cottages and holiday homes - catering for families travelling with children.
The establishments below accept children of all ages (from babies and toddlers to teenagers). If none of these establishments take your fancy, please adjust the filter to show results for the specific age group(s) required.
Kids in KwaZulu Natal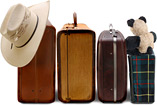 Pedal lagoon boats at Uvongo; water sports and camping at Midmar Dam; the chance to see some of the most spectacular waterfalls, swimming with fish at uShaka Marine World; climbing the lighthouses at Port Shepstone, Cape Vidal, St Lucia and Umhlanga; a boat tour of Durban's harbour; and the beaches of both the north and south coast make holidaying with children an absolute pleasure.
From the towering mountains of the Drakensberg in the west to the warm waters of the Indian Ocean, with no fewer than five Blue Flag beaches, on the east and south boundaries of KwaZulu Natal, this subtropical, densely vegetated land of hot, humid summers and enviable winters is the reason that more than a third of local South Africans head to the province on holiday. South of the Tugela River has become known as 'the holiday coast', with Durban as its centre. It embraces long stretches of golden beaches peppered only by the quiet of lagoons and river mouths forming an endless sequence of charming and magical places to stay. Families are no stranger to KwaZulu-Natal, where 'going coastal' with balmy days of sunshine and warm waters is the epitome of down time for everyone, including mom and dad.
From the sardine run, which never fails to thrill all who head to the south coast en masse to experience the myriad sardines and the accompanying sea birds, dolphins and sharks, as well as people with nets - all of whom want part of the action; to the Greater St Lucia Wetland Park - its walking trails along the edge of the lake, and the chance to watch hippos and crocodiles or fish along the coast, there is something for everyone.
Kosi Bay, in the most northern parts of St Lucia, witnesses turtle migration between November and January, and on moonless nights they head on to the beach to lay their eggs - sheer delight for children for whom this is an experience of a lifetime.