Eastern Cape Child / Family Friendly Accommodation
Child friendly hotels and accommodation in Eastern Cape - including family hotels, guest houses, bed & breakfasts, holiday apartments, suites, cottages and holiday homes - catering for families travelling with children.
The establishments below accept children of all ages (from babies and toddlers to teenagers). If none of these establishments take your fancy, please adjust the filter to show results for the specific age group(s) required.
Kids in the Eastern Cape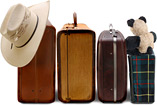 With its ideal mild climate, some of the most beautiful beaches in the country, particularly because they lie on the Indian Ocean, and any number of things to do with a family, the Eastern Cape is definitely one of the more favoured regions in South Africa in which to holiday.
Essentially the Eastern Cape is about malaria-free safaris and beach vacations. The Eastern Cape has a host of private and national game reserves, many of them practically neighbours, although you need to have done your homework as far as children are concerned as some game reserves that welcome children may not allow them on game drives unless a particular vehicle is taken by your family alone. But as a rule, national parks are extremely child-friendly.
Combining a safari with self-driving along the coast, stopping at a number of beaches in your own time, is a wonderful way to experience both the untamed and the more refined aspects of the Eastern Cape. Many visitors to the country fly in via Port Elizabeth, where there are fantastic beaches, an oceanarium and snake park at which to entertain children.
For others, the Eastern Cape is all about the Addo Elephant National Park and visiting the sanctuary that offers this sacred animal of Africa a home, just 73 kilometres from Port Elizabeth, where children are welcome. The sighting board, just outside reception is a bonus when you have children, and the Addo Main Camp is good value for money.
Other great visits for families with children include: the rock pools at Middle Beach in Kenton - filled with sea creatures - that allow a fair amount of safe swimming and even babies enjoy the water, which is warmer having baked in the sun for a while; the beach at Cape St Francis - one of the best beaches in the country and ideal for families, and fishing on the Kromme River.
Kenton on Sea's Shelley Bay, which you can reach by driving to Bushmanís River and then following the road until it peters out. There follows quite a walk over sand dunes - interspersed with endemic aloes - so not a good idea with little ones, but for older kids, itís a lark; and finally, the Tiffindell ski resort - the only place on the continent at which you can snow ski - is set on the slopes of the southern Drakensberg.