Africa's first concentrated solar power thermal power plant lies just outside Upington, in the Northern Cape. You can see the huge 205-metre tower on the horizon from the N14, surrounded by its 4200 massive ...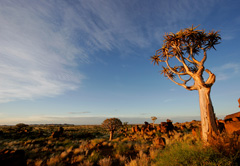 The Kokerboom, or quiver tree, is one of the most idiosyncratic trees of the Kalahari (South Africa and Namibia). Also known, in scientific circles, as the Aloe dichotoma, this succulent Aloe grows to ...
The Spitskop Nature Reserve was named after Spitskop, an impressive granite koppie just outside the small town of Upington. Consisting mainly of sandy flats interrupted by two rocky outcrops, the Spitskop ...
Situated just outside of Upington on the N14 road to Johannesburg and Olifantshoek, next to Desert Palace Casino, is the Upington Golf Course. The Upington Golf Course is a suprisingly attractive, contrasting ...
The Witsand (White Sands) Nature Reserve is a 2 500 hectares island of brilliant white sands surrounded by a sea of regular Red Kalahari sand. Also known as Brulsand, or Roaring Sands. Geologists who have ...