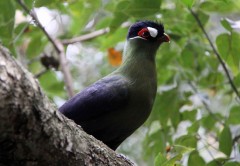 The Enseleni Nature Reserve is a small reserve of 293 hectares lying just inland from the town of Richards Bay, almost midway between Empangeni and Richards Bay. Obviously it is a popular day's outing for ...
The Mzingazi Golf Estate is situated in the quiet seaside town of Richardís Bay, known for its balmy weather and excellent beaches. In fact, the golf course is flanked by the Indian Ocean and the Mzingazi ...
The Reserve has remnant stands of swamp forest, the Thulazihleka Bird viewing hide in small swamp and the Tidal Mudflats and shallows south of the Mhlatuzi river. 300 species of birds have been recorded in ...