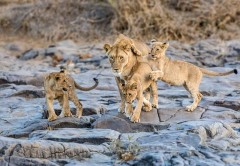 Situated in Northern KwaZulu Natal, on the banks of the Mkuze River, the Amazulu Private Game Reserve is the home of the Amakhosi and Mkuze Falls Lodges. Boasting 10 000 hectares, this private game reserve is ...
This magnificent Ithala Game reserve, tumbling from the heights of the Ngotshe Mountains a thousand meters down into a deep valley, carved over the aeons by the Phongolo River revealing the world's oldest rock ...
The Pakamisa Private Game Reserve comprises a pristine malaria free wilderness area of some 2500 hectares. Access to the reserve is restricted, enabling guests at Pakamisa to enjoy the exclusive experience of ...
The Pongola Nature Reserve was first proclaimed in 1894 and is the second oldest reserve in the world and the oldest in South Africa. Pongola Nature Reserve is a sanctuary to a large variety of wildlife, ...
Travel inland in a north westerly direction from the iSimangaliso Wetland Park Heritage Site and you will reach the large Pongolapoort Dam, on the south-eastern shores of which lies the Pongolapoort Nature ...