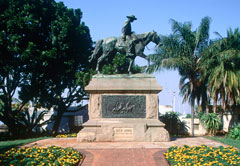 Dick King is best known for his epic 10-day ride from Durban (then it was called Port Natal) to Grahamstown in 1842 to round up reinforcements for the British. At the time, Durban was in danger from the Boer ...
Durban Harbour is a natural harbour that still resembles the original bay's shape. It is said that Portuguese explorer, Vasco da Gama, discovered the bay in 1497. Soon, it became a major point of access that ...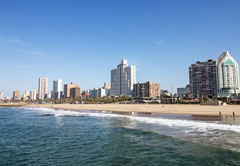 As its name implies, the Golden Mile boasts a gorgeous stretch of several golden beaches, which are lapped by the warm waters of the Indian Ocean. These are flanked by the hustle and bustle of some of Durban's ...
Durban is one of South Africa's most significant metropolises, and the proud home of the Moses Mabhida Stadium. Named after one of the most dedicated freedom fighters of the apartheid regime, this has been ...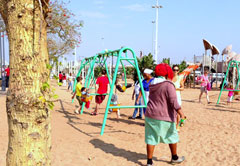 Just south of the Moses Mabhida Stadium, in Stamford Hill, is People's Park. As its name suggests it is a park designed for people, particularly children. Don't go expecting the usual rectangle, grassy verges, ...
The two-storey building that is the Victoria Street Market, with under cover parking below, is a top-to-bottom array of clothing, leather goods, jewellery and the odd Indian spice shop. But if you are looking ...