The mountains and valleys of the Amathole are swathed in afromontane mistbelt forest, interspersed with pine and eucalyptus plantations. These forests, or forest complex, lie bounded by the towns Stutterheim, ...
This rather odd rendition of ĎCunninghamí is the name for the pass on the N6 near Stutterheim. Whilst the pass is a modern road, easy to drive and with some pretty spectacular views, its name is an historical ...
Gubu Dam is renowned for its beauty and its flyfishing. In fact, itís considered one of the best trout fishing dams in the Eastern Cape. But donít let on, as itís also one of the areaís better kept secrets, ...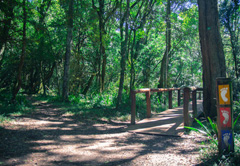 The home of the second largest natural forest in the country, after Knysna Forest, the Kologha Forest Reserve (sometimes also spelled Xhologha for those who canít pronounce the Xhosa name, which means peace) ...
Wriggleswade dams the water of the Kubusi River, on the opposite side of Stutterheim from the smaller Gubu Dam. Where Gubu Dam lies in amongst indigenous forest and Mount Thomas, the larger Wriggleswade is set ...