Restaurants in Stutterheim
Restaurants: Cafés & Coffee Shops
Showing 1 of 1 restaurant in this category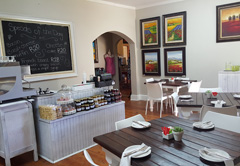 Where? Stutterheim
The charming little Eastern Cape town of Stutterheim, just brimming with history and natural beauty, is the proud home of the Vinkel en Koljander Coffee Shop. This is more than just a coffee shop, though. It ...
Filter restaurants
in Stutterheim, Eastern Cape
©Unauthorised use of the
photos is strictly prohibited.