The Hluleka Marine Protected Area runs alongside the 772 hectare Hluleka Nature Reserve, midway between Coffee Bay and Port St Johns, protecting 4 km of the Eastern Cape's Wild Coast, south west of Port St ...
The virtually undiscovered Hluleka Nature Reserve lies roughly 20 kilometres south of Port St Johns on South Africa's Wild Coast, a part of the world most aptly described in terms of its rugged and natural ...
Flanked on either side by the forested ravines of the Msikaba and Mtentu Rivers, Mkambati Nature Reserve is 8000 hectares of coastal reserve that consists mainly of grassland, close to the KwaZulu Natal border ...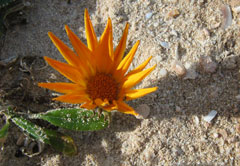 Between Port St Johns, on the Wild Coast, and the Msikaba formation sandstone gorges of Oribi Gorge, in KwaZulu-Natal, stretches a biological hotspot filled with forests, grassland, and incised river valleys. ...
The largest Marine Protected Area in South Africa, the Pondoland MPA lies on one of the most rugged, wild and beautiful coasts of South Africa - the Eastern Cape's Wild Coast. It stretches for 90 km between ...
The Silaka Nature Reserve serves to protect the biodiversity of the coastal forest in the region, and stretches along the coastline between Second Beach and Sugarloaf Rock - 400 hectares of striking coast, a ...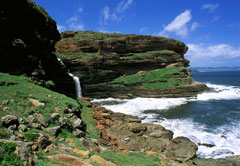 Between Port St Johns and the Mkambathi Nature Reserve (but closer to the Msikaba River than Port St Johns) is Waterfall Bluff. It is not that easy to reach; one cannot simply drive to a clearly marked lookout ...
A memorable golf course situated on the magnificent Wild Coast. World-renowned golf course architect, Robert Trent Jones, has used the dramatic coastal setting to maximum effect, designing an interesting and ...