The 6 000 hectare Commando Drift Nature Reserve lies roughly 60 km north of Cradock on the road to Tarkastad. At its heart is the Commando Drift Dam, fed by four rivers. On what is essentially a mixture of ...
The Cradock Four is a garden of remembrance, a memorial in Cradockís Lingelihle township. It consists of four tall concrete pillars, erected to honour four anti-apartheid activists assassinated by the secret ...
The craggy heights of the Mountain Zebra National Park's Bankberg embrace rolling plains and deep valleys, and has become an entrancing preserve for the Cape mountain zebra. The proclamation of the park in ...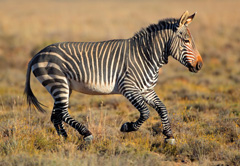 The valuable grasslands between the Mountain Zebra National Park and the Camdeboo National Park are now formally protected by a partnership between the Wilderness Foundation and SANParks. Known as the Mountain ...
Mountain Zebra National Park lies in amongst the Bankberg Mountains and a series of undulating hills just outside Cradock in the Karoo. This area receives 25% more rain than other more dry parts of the Karoo, ...