South African Cuisine
Cape Malay Food of South Africa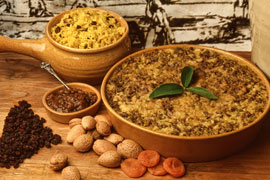 Cape Malay cuisine is, as its name implies, a fusion of a traditional South African essence (specifically from the Cape on the West Coast, now known as Cape Town) and Malaysian, or Eastern influences. Its flavours are well-known to locals, and remain a major part of the South African culture. Due to its unique quality, Cape Malay cooking has become an important part of the South African identity, as well as of the tourist experience.

When the Dutch colonised the Cape in the 1600's and 1700's, they brought with them people from the East to work as slaves for them. These exiles originally landed at the area now known as Green Point in Cape Town, leaving the massive ship to begin a life of the unknown on the Dark Continent. To follow was a life of cruelty at the hands of the settlers, hardships, and then the battle of the Apartheid regime. While undeniably tragic, this led to the Cape Malay people's establishing extremely close bonds with one another and clinging to their unique culture and belief system. The Bo-Kaap is still known as the heart of the Cape Malay people and their fascinating culture. District Six was another important hub for these folk.


In general, the Cape Malay exiles adhered to Islam, while the European settlers were Christian. This not only meant very different beliefs and customs, but also a completely different set of cooking techniques. In most cases, the modern Cape Malays adhere to their traditional Islam roots.
The
Cape Malay cuisine
is characterised by aromatic, strong flavours with complex lists of ingredients. There are some Asian elements that are easier to identify in traditional Cape Malay dishes, but there are also plenty of African and European nuances too. Popular Cape Malay dishes include plenty of fish (having lived off the produce of the sea on their doorstep since their arrival), as well as stews, roasts and spicy curries. The aromatic nature of their dishes is due to the cinnamon, saffron, tamarind, and fruit that they like to add, not forgetting plenty of chillies.
They are also famous for their homemade chutneys and atchar. Many of their seafood dishes are salted (such as snoek served with apricot jam), curried or pickled. This hails back to the days in which they did not have refrigerators, being forced to preserve the dishes in some other way.
Breads are also important in the Cape Malay cuisine. Rotis are flatbreads that are used to hold and mop up saucy curries, for example. Curries are served with sambals that help to make the fiery burn less painful for children or those that prefer slightly milder foods. These include sweet chutneys, tomato and onion, and plain yoghurt.
Although the Cape Malay culture is such an important one in the
Western Cape
and South Africa, it actually does not feature much outside of this province. Cookbooks that are dedicated to this cuisine style are available countrywide, though, and promise a fantastic sample of the local fare for those that feel adventurous in the kitchen and who love spicy dishes.

Did You Know?
Thanks to the cosmopolitan nature of this country, the restaurants of South Africa offer a wide variety of international cuisine types too. These vary from Eastern favourites (Thai, Chinese, Japanese, Vietnamese, and so on) to German eateries, English cafés, Moroccan food stalls and American-style diners.
Regional, relief and street maps, as well as maps highlighting the attractions, world heritage sites, game reserves, golf courses and more in each region .... over 200 maps to help you explore South Africa.